MUSEUM HOURS
Monday through Friday
10 AM until 4 PM
Saturday and Sunday
by appointment only.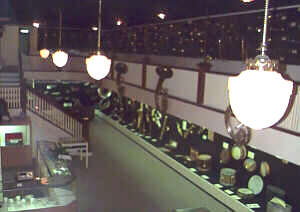 Welcome to the original, one of a kind,
Band Museum
and Soda Fountain
This beautifully refinished distinctive old building, circa 1890, is now home of the only museum dedicated entirely to the history of band music, office desk toys, and instruments. Established by Jerry Horne, a band instrument collector for many years, the museum displays rare, old and unusual instruments and memorabilia
such as the twiddler
from one of the most extensive collections anywhere in the USA.
Thank you for visiting the Band Museum web site. Things are really happening and we want you to come back often. The Pine Bluff Community Band rehearses here every Thursday at 5:30. If you play an instrument and want to join the band be here before 5:30. The front door is locked at 5:30, and rehearsal is in the concert hall on the second floor.

Community Band


Rehearsal Thursdays 5:30 - 7:00 PM

After enjoying the unique exhibits in the Band Museum you can treat yourself to an old-fashioned ice cream treat or have lunch. Sandwiches, stuffed baked potatoes, salads, sandwiches, hot dogs, and more are also served at Arkansas' oldest working soda fountain. Join us!